Modeling of Laminar Flow Static Mixers
The COMSOL News production continues and we're almost done with sending all the User Stories to layout. We've also started to get some coming back, and they're beginning to look great. One of them uses the new Particle Tracing Module that I blogged about recently, giving you a glimpse of what's coming for the next release of COMSOL Multiphysics.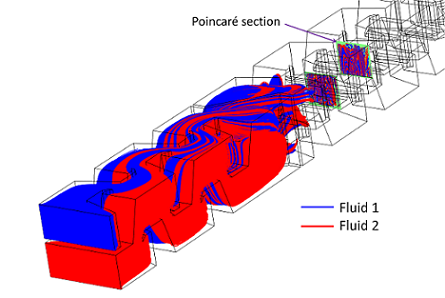 Nagi at Veryst Engineering had been working on a project for a customer that makes static mixers. Prior to the release of the Particle Tracing Module, he used streamlines in the postprocessing feature to analyze the mixing. While this gave good results and insight into the mixer design, it wasn't until he received the Particle Tracing Module with the latest release that he saw he could get accurate results.
Numerical diffusion is a computational artifact in CFD programs that does not reflect the actual mixing process of viscous fluids in laminar mixers. It dominates over the very low molecular diffusion present, which is responsible for mixing in static laminar fluid mixing. By using particle tracing, they were able to exclude numerical diffusion from the simulation for a more accurate solution, using far less computational resources.
---