One of the more common questions we are asked is about the modeling of periodic, or pulsed, heat loads. That is, a heat load that turns on and off repeatedly at known times. Modeling such a situation accurately and efficiently in COMSOL Multiphysics is quite easy to do with the Events interface. The techniques we will introduce are applicable to many classes of time-dependent simulations in which you have changes in loads that occur at known times.
Read more
---
Chien Liu | February 9, 2015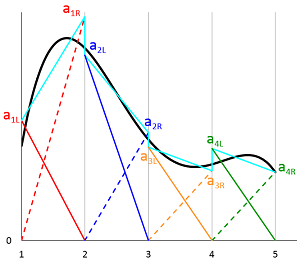 This post continues our blog series on the weak formulation. In the previous post, we implemented and solved an exemplary weak form equation in the COMSOL Multiphysics software. The result was validated with simple physical arguments. Today, we will start to take a behind-the-scenes look at how the equations are discretized and solved numerically.
Read more
---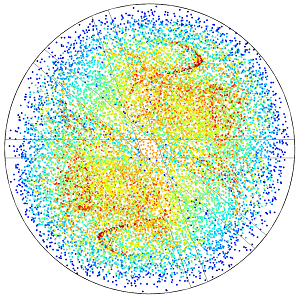 In recent postprocessing blog posts, we've demonstrated different plot types that are typically used for common fluid, mechanical, chemical, and electrical applications. In the next several parts of this series, we'll introduce a few more unusual plot types that are specific to unique applications and discuss some other tools that you can use to change the feel of your visualization. Here, we highlight polar, far-field, and particle tracing plots.
Read more
---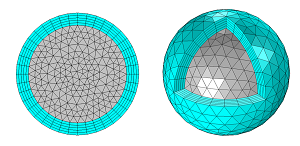 When solving wave electromagnetics problems, it is likely that you will want to model a domain with open boundaries — that is, a boundary of the computational domain through which an electromagnetic wave will pass without any reflection. COMSOL Multiphysics offers several solutions for this. Today, we will look at using scattering boundary conditions and perfectly matched layers for truncating domains and discuss their relative merits.
Read more
---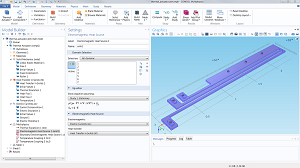 We have created a video tutorial for those of you who are new to the COMSOL Multiphysics simulation software and need an introduction on how to use it. The video tutorial featured in this blog post shows you how to set up and run a simulation using COMSOL Multiphysics.
Read more
---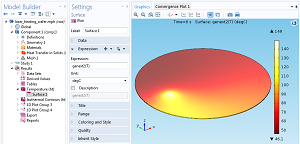 One of the common modeling situations that we encounter is the simulation of rotating objects exposed to loads. There are many ways in which such rotation can be modeled. In this blog post, we will look at addressing this by using the General Extrusion operators and discuss why this approach is useful.
Read more
---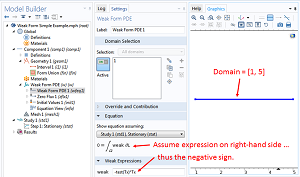 This blog post is part of a series aimed at introducing the weak form with minimal prerequisites. In the first blog post, we learned about the basic concepts of the weak formulation. All equations were left in the analytical form. Today, we will implement and solve the equations numerically using the COMSOL Multiphysics simulation software. You are encouraged to follow the steps with a working copy of the COMSOL software.
Read more
---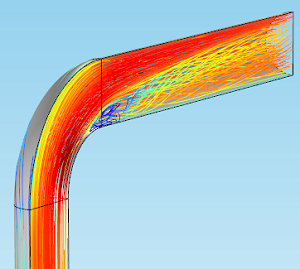 Last month, we saw examples of contour plots (and their 3D counterparts, isosurfaces) that were created to show the stress in a pulley and the acoustic frequency in a loudspeaker. In this installment of the postprocessing series, we'll explore the use of streamlines to visually describe fluid flow.
Read more
---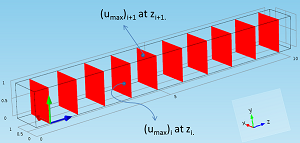 In a previous blog entry, we shared a postprocessing technique for creating an animation by combining parallel slices in a 3D steady-state model. Today, we will look at another postprocessing trick: how to evaluate and plot the maximum (or the minimum, average, or integration) value of any variable at various parallel sections along the axial coordinate.
Read more
---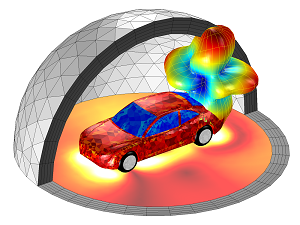 Here's a question for all you electromagnetics-focused simulation engineers out there: Have you ever looked in envy at your structural, fluid, and chemical counterparts as they mesh their models with the click of a button, while you struggle to mesh your infinite elements or perfectly matched layers? Well, now you too can enjoy automatic meshing with a click (or two). Let me show you how.
Read more
---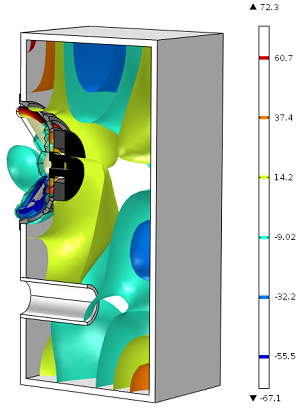 In the previous installment of the postprocessing series, we showcased techniques for visualizing results on cross-sectional slices. Now, we'll discuss how contour and isosurface plots can be used to show quantities on a series of lines or surfaces. Though they're usable in many applications (from heat transfer to acoustics), we'll specifically look at how they can show mechanical stress in a driving pulley and sound pressure levels in a loudspeaker.
Read more
---
Get new posts by email
---
Categories
---
Tags